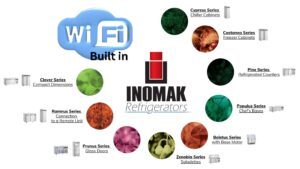 For 2023, all INOMAK Refrigerators are available, factory ready for connection to an IoT network via Wifi. This feature is available at the moment, upon request,  only for New refrigerators.
You can fully monitor the operation of your refrigerator via an ios/android application, from your mobile phone, tablet, or desktop computer, through a special platform, with a simple and easy menu of options, you can operate remotely all the functions of the refrigerator, ensuring the smooth flow of the operation of the refrigerator and the safety of the stored goods.
For more information, don't hesitate to ask!