"Horeca 2017 International Exhibition maybe over, but its footprint in the Catering Equipment Sector is going to be a decisive & driving factor for the rest of the year!"
Four days full of tastes & aromas! 4 days immersed in & infused with flavors & scents! 4 days full of happy & exquisite voices & faces! 4 literally "hot" days abundant in optimism, bold ideas & tangible proof that the future can be much better than we, most of the times, allow others to make us believe and that our well-being, is in the hands of each one of us!
Central point in this year's presence for INOMAK Refrigerators was to honor the strategy which, 42 years after day 1, it keeps us going & growing! So for the 42nd time in a row, we choose to …stand out of the crowd!
So let's go back in time now and remember the points that stood out from our presence in Horeca!
Energy Classification for Commercial Refrigerators!
The "hot" subject for 2017 in the Catering Equipment Sector, is none else than the Energy Classification of Commercial Refrigerators, which is compulsory since 1st of July 2016 according to the EU standards EE 2015/1094 & 2015/1095.
As of this date, all our refrigerators are Energy Classified according to the European Legislation and the investment on new technologies to improve them, has already commenced. Stay tuned! We approached the situation determined to make our refrigerators fit the requirements of the standard, without compromising the key factor, all those years, for INOMAK Refrigerators which was, is and will be … Performance!
And all of these at the usual price tag keeping the price to quality ratio at the usual INOMAK's standard that you know & you trust!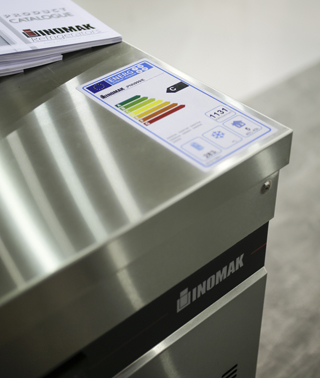 More Multi Refrigerators models Available!
Your favorite line of Refrigerators since day1, for its benefits and the cost-saving character for the modern Catering Professional, this year grew bigger with lots of new models!
Now you can also order all Upright units ready for connection to a remote unit, as well as, all Refrigerated Counters Models!
Now all INOMAK's refrigerators are available as Multi in order to make your journey to the world of tastes & aromas more versatile than ever!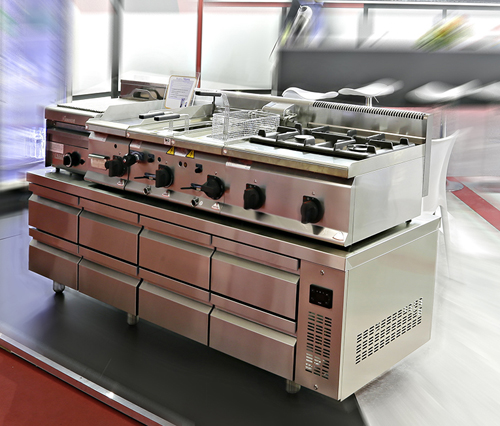 Glass Door Refrigerators: Functionality & Style!
The warmth which you welcomed with, the Glass Door Counters during the first year of their release, left no other choice to us than, to add more Glass Door models! Now, a new series Slim Line (depth 600mm) Glass Door Counter models are available! As in all our Refrigerated Counters, the doors are now equipped with a return mechanism, effective at angles less than 90o , making a small, but decisive step on the energy expenditure of the glass door units!
Moreover, regarding the existing Glass Door models and more specifically, the Upright Glass Door Refrigerators… one of the 2 door Chillers we had with us in Horeca …took the initiative to honor and thank all of you, who trusted in her for your valuable resources, and offered to all thirsty visitors, bottles of water throughout the 4 days of the exhibition.
These bottles were stored on the new and denser shelves, suitable for storing bottles in an upright position which all Glass Door Appliances are equipped with from now on!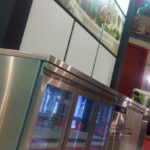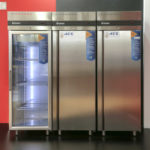 As if all of the above were not enough, our new mascots Makis & Mina focused on the Glass Door Freezers and their amazing Anti-fog film and removed half of it from a door, to show case its effectiveness in clarity and energy saving! The results, as you can see in the picture ….brought tears to Minas eyes! Our intelligence department informed us, that those two mischievous characters are up to something great for the end of the year…. Stay tuned!
The use of anti-fog film on the Glass Door Freezers ensures clarity & transparency, alongside the energy saving resulting from the absence of any kind of heating resistances!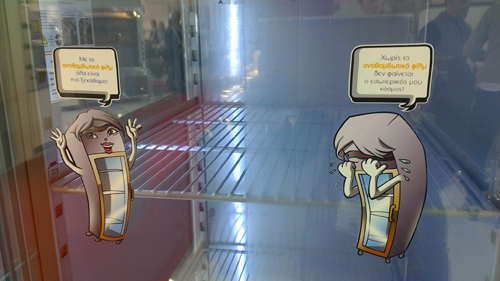 Rails for trays for INOMAK's Self Service Lines!
One of the prototypes that debuted in this year's show, was a series of stainless steel rails for trays, as an accessory for our Self Service Lines of Saladettes & Bain Maries.
Their design is very simple and elegant & their use is not limited to the above mentioned product lines, but they can be fitted to all counter structures INOMAK's or not, as they are very easy to mount everywhere.
More on these rail systems, as well as, other additions on the Self-Service Lines, will be announced during the year! Stay tuned!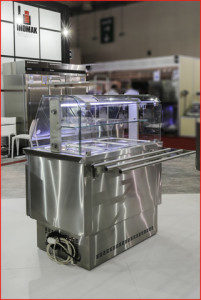 Double Sneeze Guard on our Bain Maries for added Protection!
After the introduction of the improved Bain Marie Lines and your warm reaction and acceptance towards them, this year we have added to the Self-Service solutions we offer to you, the option of the top glass with Sneeze Guard on both sides for added protection of the food and the customer being served.
The Sneeze Guard models are available with single or double curved top glass on Heated or Neutral Cupboard. along the lines of all INOMAK Bain Maries on Cupboard.
There is also a portable Bain Marie version!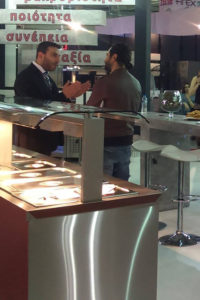 Chefs Club & Gastronomy Forum!
Our relationship with Hellenic Chef's Club is a long lasting & prolific one, going back more than decade! During this year exhibition the Club organized one more stunning Gastronomy Forum using a selection of INOMAK's refrigerators. For 2017, the Gastronomy Forum was renewed & aligned with the needs of the every modern Catering Professional, focusing on education!
During the last few years, there a growing trend of professionals, (not only related to the Catering & Culinary sector), who understood the role & power of ,as well as, the need to invest resources in education. In INOMAK Refrigerators, we believe that education is the only investment that no one ever, can take it away from you!
Education of all sorts can, indeed, be a competitive advantage for any business and business cultures focused on education and continuous improvement, are characterized by innovative and transformational ideas, that make them stand out of the crowd of competition! Well Done Chef's Club, you rocked!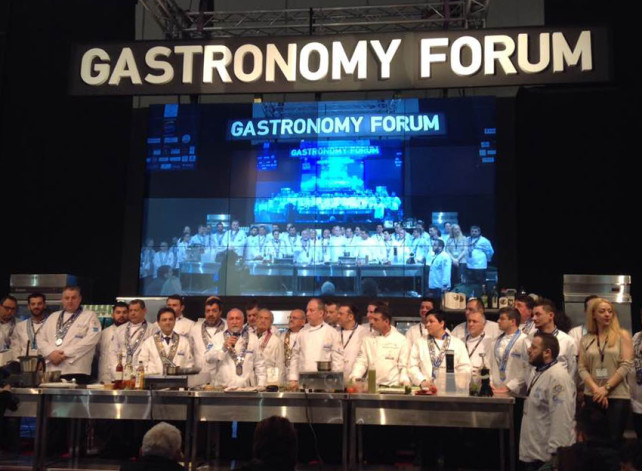 Microsoft HoloLens: Mixed Reality on the Catering Equipment Sector by INOMAK Refrigerators!
Last but not least, for the last bits of this article, we picked something that we strongly believe in and really "moves us" for the future! We believe that the following years it will influence in a definitive way, the way we do business in our field but not only. This introduction is about the Virtual Reality technology and more specifically Microsoft's solution to it, the HoloLens.
On Saturday 11/2 , we held a short presentation of our approach to mixed reality technology. On this initial approach we focused on Marketing and promotional applications for our products and a few lucky visitors had the chance to go through and be informed about our news in a virtual way and saw our refrigerators placed among popular world monuments with Rome and the iconic Colloseum being the most popular of all!
Mixed Reality technology, combines real elements of the environment with digital ones such as holograms and creates an environment with more options for the user, offering enhanced and fulfilling experiences!. The best of both worlds! !
For next year we have planned to expand its use in our Research & Development Projects, a field where VR,  worked in a very interesting way, as well as, to expand the marketing applications we sampled for 2017 and create a complete Mixed Reality Booth! Stay tuned for more!
At the picture on the left, a lucky visitor is being informed about our Glass Door Upright Refrigerators, using a great variety of sources presented to him by our VR Marketing Team!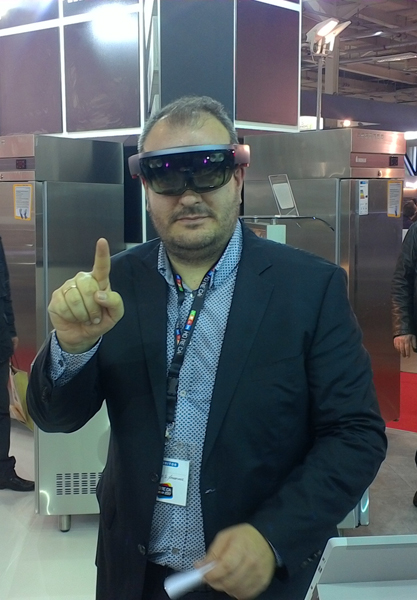 A new era for Gastronomy & the Catering Equipment field?
A closure is considered by many, to be an end. For us, every ending is a new beginning and from this point of view, we approach this exhibition.
Amidst turbulence & volatility for the whole world, events like Horeca remind us that opportunities for growth, are out there for all those who will seek them by conscious choice and choose an optimistic way of thinking over situations and the environment! Let us all be prepared, for the next day of our sector in the best way possible and renew our appointment for Horeca 2018!