Refrigerators with glass doors: An unnecessary expense or an investment capable of making a difference?
Nowadays, the market is flooded by endless propositions, while all manufacturers are trying to secure their position in a very competitive market, successfully or not.
In general, a "refrigerator" is destined to meet a range of very basic human needs with survival and safety through nutrition, standing out from these. For this reason, in INOMAK Refrigerators, we approach the refrigerator with a simple, basic philosophy, focusing on the essence and satisfaction of the aforementioned needs, with the performance of the device as point of reference.
According to the latest studies and the conditions of the market, as we observe it through our daily contact with our customers, Refrigerators with glass doors, are becoming a favorite in the Catering Professionals' circles.
There are many reasons why the products in this category stand out. Whether these reasons are functional or aesthetic, what ultimately matters is that glass doors in refrigerators are essential to the modern professional.
These products begin to rightfully earn their place amongst their most traditional and popular "relatives" with sturdy stainless doors and surely there is no "smoke without a fire!"
Refrigerators with Glass Door: An Expense or an investment?
To start with, let us clarify the following, before proceeding:
Each refrigerator has its use and its place in a Professional kitchen. Glass doors are not needed everywhere.
2. The good quality refrigerator with glass doors is by default more expensive than a conventional refrigerator.
So, why would anyone prefer them to the cheaper refrigerators with stainless steel doors?
This question is a reasonable one. Let us see, however, when and under what conditions, are they superior and how they ultimately create value for the business that will invest in them?
"Nothing is hidden under the sun!"
… Says the well-known saying and it finds its full application, every time there is one Refrigerator with Glass Door inside a kitchen!
Tidiness, an important value in catering, automatically gains points with the presence of glass doors, because everyone now is extra motivated to be neat & tidy! There are two sides in the "coin" of motivation, and with a glass door appliance, they are both fully satisfied: It either offers satisfaction for the result of the work of those, who are motivated by achieving things, or it does not allow space for the carelessness of those, who need to avoid bad outcomes, in this case, the lack of tidiness.
In modern management it is proven that performance improvement is rapid in teams that have transparency in operation and where everyone is in direct contact with the outcome of their work!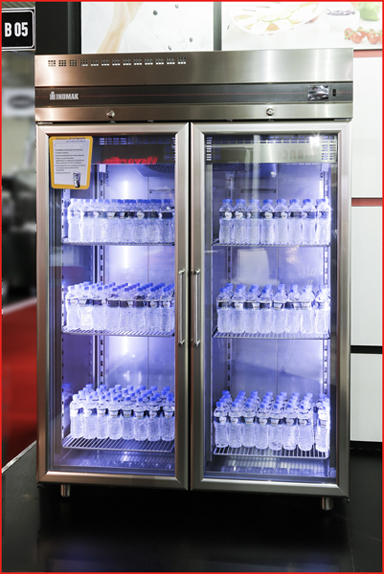 Refrigerators with Glass Doors: A Marketing Tool!
In cases where the kitchen is open or can be visited by the customers, there isn't a more effective tool in marketing, than tidiness! Imagine a refrigerator full of desirable meats with vivid color, arranged nicely according to their type, stored in the proper containers. Next to it another refrigerator with colorful fruit and vegetables, placed with love and care and then another one with deli meats hung side by side and lastly all drinks neatly arranged in a professional refrigerator that guarantees the proper temperature, without the glass door blurring and filled with ice.
The above situation shows quality, passion, love for work, and respect for the customer and eventually becomes a pole of attraction and a competitive advantage for every business! The truth is that a refrigerator with stainless steel doors, regardless of how important tools they are, they are not attractive as their glass door "relatives" with beautiful and neatly placed materials inside!
Especially in the field of food, hygiene cleanness and tidiness, are strong indicators of safety and health. Food continues to be a basic need for survival irrespective of catering's more recreational character. Customers trust a professional not only with their own health and safety but with the health and safety of their families and loved ones as well. In order to be persuaded, a serious effort and consistency is needed.
It is a common secret that reputation built via word-of-mouth, is better and less expensive than any other marketing channel. Moreover, a dissatisfied customer will affect on average 20 people, while a happy one only 5!
Behind closed doors: Inspecting the contents!
Glass doors, allow for more effective control and management of some materials, whether critical or not. Literally at a glance, someone can immediately get informed about his inventory and its current condition, so that the kitchen, will not run out of anything and as usual, in the worst possible moment, according to our favorite Mr. Murphy and his famous law!
Furthermore, if a refrigerator has glass doors, the frequent phenomenon of someone opening all doors to find what they are looking for, is avoided! In a refrigerator, each door opening is equivalent to energy loss and energy translate to money lost. The result of this becomes evident in the electricity bill!
Energy Consumption and energy saving are two subjects of great concern in recent years. According to today's legislation, all stainless steel professional refrigerators should be certified by special laboratories for their energy class to be able to be sold legally, within the European Union. For the moment, products with glass doors are excluded from this obligation.
The Energy Classification of a refrigerator is only one of the links of the chain of events that lead to "energy saving". Energy saving also depends on how the refrigerator is used on the day-to-day operations and actually it depends on that to such a great extent that improper use, can drastically tip the balance of the scale towards energy waste. For example, a car, as economic as it may be in fuel consumption, if its driver has his foot stuck on the accelerator pedal, the actual consumption will be significantly higher than the theoretical one.
Using a Refrigerator with Glass Doors, you can find everything you need, easily, quickly and economically, by opening only one door… the one that you really need!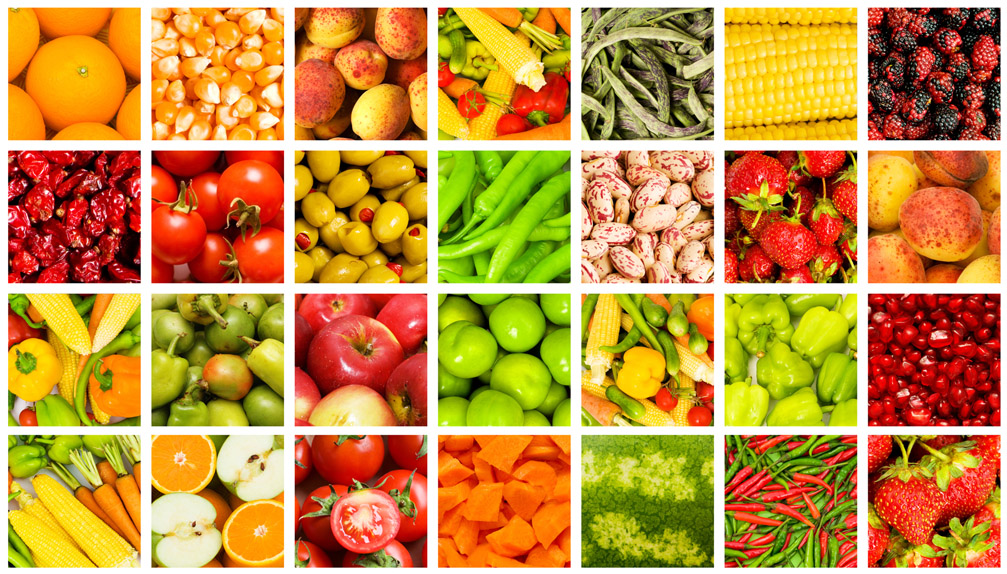 Redefining a classic!
Upon listening to the phrase "a Refrigerator with Glass Doors", most of the people would think about low-priced and even lower-in-quality refrigerators for soft drinks that have flooded the market for decades. As soon as the temperature of the environment rises, these refrigerators may even be dangerous for public health.
The proposal of INOMAK Refrigerators is a product of industrial aesthetics and performance, which preserves the products stored in it, consistently, effectively & efficiently.
Our suggestions for the modern professional!
Our proposal for a refrigerator with glass doors includes 4 Upright Models and 12 Refrigerated Counters models, covering the vast majority of the needs of a Catering Business!
From Upright Refrigerators' those that stand out are the Freezer models which are equipped with an anti-fog film on the glass, eliminating thus the need for a heater in order to keep the glass clear! Also, the shelves of our Glass Door Refrigerators, are specifically designed to allow the vertical storage of bottles, featuring a denser wire structure!
Refrigerated Counters with glass doors are available in 2 Series with a depth of700mm & 600mm respectively, Here, the very interesting point is the, "Remote Unit & Multi", family of products. These are designed to function with a remote refrigerating unit, individually or collectively. The energy savings from these arrangements (especially the Multi-Unit arrangement) can be significant, provided that the calculation and the installation of the refrigerant unit is carried out by a skilled professional. In this way, a business spends less for maintenance, increases the useful space in the kitchen and keeps the room temperature lower, thus helping the other appliances and the employees to be more efficient.
Summing up… and closing this article's (glass) door!
The refrigerator, as an appliance, covers some of the most basic human needs with consistency, respect and efficiency. Despite the basic nature of the needs they cover, new elements need to be introduced, for the purpose of improvement.
In modern times, details and expertise make the difference. Using a refrigerator with glass doors at selected locations of the production chain of a catering business, is one of the points that will make your business stand out!